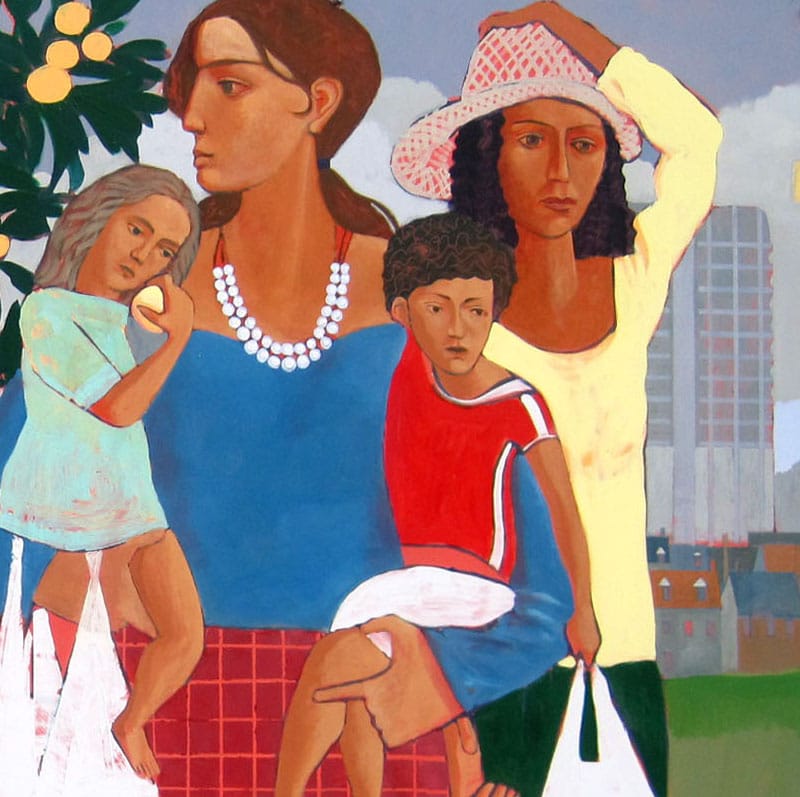 The Artist
Tim Carroll lives and works in Swindon. He has a degree in Fine Art from Leeds University, is a member of the Bath Society of Artists and a regular exhibitor at the Royal West of England annual exhibition in Bristol.
His paintings are at once exciting and harmonious, fun and sophisticated. The balanced colours and compositions are pleasing to the eye, whilst the groups of figures and exotic settings create a strong narrative quality and sense of mystery.
Tim has completed several local projects, which have involved the documentation and renovation of public art for Swindon Borough Council, renovation of John Clinch's 'Great Blondinis' statue and an extremely well-received series of paintings, '100 Views of Swindon', now available as a book.
The Mural
"I have taken inspiration from Harold Dearden's painting 'Salubritas et Industria', Swindon's motto, which means 'Health and Hard Work' and was once displayed in the council chamber at the Civic Offices.
My mural shows people relaxing in the Town Gardens on the left panel, working hard on the building site on the right hand-panel and in the central panel, getting on with things, shopping, looking after children and picking fruit.
Technically, producing the mural was quite a challenge.
I first designed the picture as three much smaller paintings on canvas corresponding to the three 2m X 3m aluminium composite boards, squared up prints of these and then transferred the outlines of the main elements in thin blue paint to the emulsion primed boards. I was then ready to start the painting,
The painting was so intricate it took much longer than expected and I almost became a permanent fixture at Regent's Circus! The progress of the painting can be followed on Instagram: timcarroll_artist"
Please visit www.timcarroll.co.uk to see more of my work.